Clint Bowyer, born on May 30, 1979, in Emporia, Kansas, has been a titan in the American auto racing scene. With a career spanning over a decade in NASCAR, Bowyer has proven himself to be a fearless competitor and skilled driver. He is known for his gritty determination and unyielding work ethic, earning him the respect and admiration of fans, peers, and critics alike.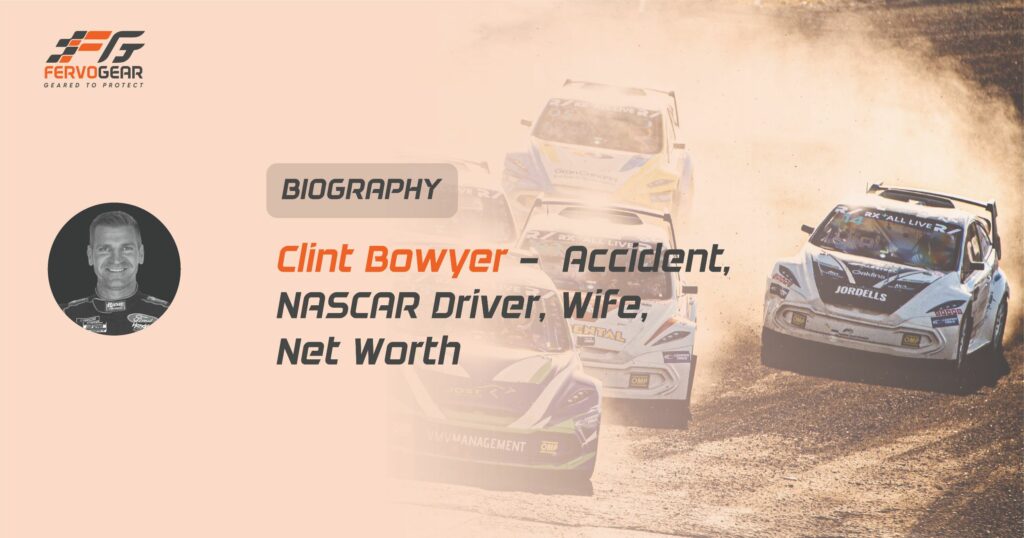 Bowyer made his mark in the NASCAR Cup Series, one of the premier racing series in the world. He competed for top-tier teams such as Richard Childress Racing, Michael Waltrip Racing, and Stewart-Haas Racing. His time on these teams showed his ability to perform under pressure and his dedication to the sport. Moreover, Bowyer demonstrated his versatility in various types of tracks, from short-track to road course races.
After a successful career in racing, Bowyer transitioned to broadcasting, joining the Fox Sports NASCAR team as a color commentator. His charismatic personality and inside knowledge of the sport made him a hit with viewers.
Full Name
Clint Bowyer
Nationality
American
Profession
Race car driver
Racing Team
23XI Racing
Car
Toyota Camry
Wins
10
Date of Birth
May 31, 1979
Age as in 2023
44
Birthplace
Emporia, Kansas
Current Residence
Mooresville, North Carolina
Zodiac Sign
Gemini
Religion
Christian
School
Emporia High School
College / University
Emporia State University
Education Qualification
Bachelor of Arts in Business Administration
Height
5'10"
Weight
170 lbs
Eye Color
Blue
Hair Color
Brown
Marital Status
Married
Wife
Lorra Bowyer
Children
Cash Bowyer, Presley Bowyer
Father
Mark Bowyer
Mother
Paula Bowyer
Sibling
Shannon Bowyer
Net Worth
$40 million
Salary
$6.9 million
Instagram
@clintbowyer
Twitter
@ClintBowyer
Check out some of the top professional drivers featured on our website:
Early Life & Career
Bowyer's Beginnings in Motorsports
Born in the heartland of Kansas, Clint Bowyer's earliest memories were imbued with the roar of engines and the adrenaline rush of speed. From a tender age, it was apparent to those around him that Bowyer was not just another kid with a passing interest in auto racing – he was a young man driven by an innate passion for the sport.
His journey began with motorcycles. At a time when most kids his age were learning to ride bicycles, Bowyer was zipping around on dirt tracks, finding joy in the revving of engines, the cloud of dust in his wake, and the thrill of competition. These experiences didn't just instill in him a love for motorsports; they gave him an early taste of what would become his life's work.
As Bowyer grew, so did his aspirations. His attention gradually shifted from two wheels to four as he ventured into car racing. The local racing venues in Kansas became his stomping grounds, where he immersed himself in the exhilarating world of auto racing. His early exposure to various forms of racing was not merely a pastime; it was a formative phase that would lay the groundwork for his future.
Years of racing at local venues honed his skills and sharpened his instincts, molding him into a formidable driver. It became increasingly evident that his talent was not ordinary, and his potential was not to be limited to local tracks. NASCAR was the next logical step for Bowyer – an environment where his skill, experience, and passion for speed could flourish.
Thus, the journey of Clint Bowyer from a local Kansas speedster to a NASCAR legend began. His early years were marked by an unquenchable passion for speed and a drive to excel, traits that would serve him well in his future career in the world of professional motorsports.
Path to Professional Racing
In the world of auto racing, talent, while essential, is not always enough. It often needs to be seen and recognized by those who can foster its growth. For Clint Bowyer, that recognition came in the form of Richard Childress, the owner of the prestigious Richard Childress Racing team.
Childress, a titan in the NASCAR world, had a keen eye for identifying talent. He saw something extraordinary in Bowyer – a blend of raw talent, determination, and an insatiable hunger to win. Recognizing the potential in Bowyer's audacious driving style and unwavering focus, Childress decided to invest in this young driver from Kansas.
Bowyer's association with Richard Childress Racing marked the turning point in his career. It was a transition from local racing venues to the grand stage of NASCAR – a dream come true for any driver. The combination of Bowyer's innate talent and the support of one of the most successful teams in NASCAR history was a potent mix.
His debut in the NASCAR Cup Series in 2005 wasn't just a professional milestone for Bowyer; it was the moment he officially joined the ranks of racing's elite. The young man from Kansas, who had started racing motorcycles on dirt tracks, was now rubbing shoulders with the best in the business, racing on some of the most iconic tracks in the country.
For Clint Bowyer, the journey from local tracks to professional racing was not just a path to a career but a testament to his drive, his talent, and the incredible potential that Richard Childress saw in him. His leap into professional racing underscored the adage, 'Where there's talent, opportunity often follows.'
Early Racing Successes
Hitting the tracks in his first season at the NASCAR Cup Series, Clint Bowyer was the embodiment of an eager rookie who had everything to prove. Despite his relative inexperience at such an elevated level, he demonstrated an indomitable spirit and tenacity that quickly distinguished him from the rest of the field.
From the moment the flag waved at his debut race, Bowyer blazed across the tracks, displaying an astonishing mix of courage and control that is rarely seen in rookies. His aggressive yet calculated driving strategy and his uncanny ability to handle the pressure during critical moments bore him numerous top-ten finishes. This strong showing wasn't just an impressive start to his career; it was a powerful statement that Bowyer wasn't just a participant in the races – he was a formidable competitor.
Bowyer's early successes did more than just place him in the spotlight; they fueled his ambition. His taste of success in the early stages of his career served as a potent motivator, driving him to push his limits and continuously refine his racing strategy. With every race, Bowyer strived not only to outdo his competitors but also to surpass his own previous performances.
His meteoric rise in his debut season also underlined his potential. Bowyer wasn't just another rookie; he was a potential future star. His early racing successes were clear indicators of his talent and potential. But more importantly, they set the stage for Bowyer's relentless pursuit of excellence in a sport where competitiveness is the currency and success is the ultimate prize.
NASCAR Career
2006-2007: Rookie Season and Early Success
When Clint Bowyer roared onto the NASCAR Cup Series scene in 2006, he brought with him an intensity and dedication that was palpable. Taking to the track in the iconic No. 07 Chevrolet for Richard Childress Racing, Bowyer was a man on a mission. This rookie was not here just to participate; he was here to compete, and he wasted no time in making his presence felt.
Consistency was the name of the game for Bowyer that season. Every time he took to the track, he delivered performances that were nothing short of exceptional. He was not just focused on speed; he was all about balance, control, and strategy that would keep him ahead of the pack. This approach bore fruit, with Bowyer securing several top-five finishes. These weren't just victories on the race track; they were victories over the doubts and uncertainties that are part and parcel of a rookie's journey.
By the time the dust settled on Bowyer's inaugural season, he was sitting comfortably in third place in the NASCAR Cup Series standings – an extraordinary achievement for a newcomer. This wasn't just a good first impression; it was a loud, clear declaration of Bowyer's capabilities. The racing world took note: this was not your average rookie. This was a driver with a promising future, someone who had the potential to be the next big thing.
From that season onward, the name Clint Bowyer was not just another entry in the race lineup. It was the name of a driver who had proven himself capable of standing tall amongst seasoned racers, hinting at the further success that lay ahead on his journey.
2008: Season Highlights
During the 2008 season, Clint Bowyer found himself under the racing spotlight more than ever. It was a landmark year, punctuated by pivotal moments and exhilarating highlights that etched his name deeper into the annals of NASCAR history.
Firstly, the heart-pounding moment that will forever be etched in Bowyer's career narrative – his first NASCAR Cup Series victory. The venue was the New Hampshire Motor Speedway, a stage known for its history of great champions. Bowyer took to the track like a seasoned pro, exhibiting a perfect blend of determination, skill, and strategy. As he crossed the finish line first, the significance of the moment was not lost on him nor on the racing world: Clint Bowyer had arrived among the elites.
Following that first sweet taste of victory, Bowyer's momentum showed no signs of waning. The season became a showcase of his talent, grit, and consistency. His performances were no longer surprising; they were expected. Here are some highlights:
Bowyer's victory in the Nationwide Series race at Bristol Motor Speedway showcased his versatility and racing prowess.
His second-place finish at Richmond International Raceway was a testament to his mettle, battling against the best in the sport.
Securing a top-five finish at the demanding Dover International Speedway further emphasized his growing reputation as a formidable contender.
These moments cemented Bowyer's reputation in the racing circuit, highlighting not just his skill but also his unflinching desire to compete at the highest level. The 2008 season was, in essence, Bowyer's statement season, and that statement was clear: he was here to stay, and he was a force to be reckoned with.
2009: Bowyer in Richard Childress Racing
In the 2009 racing season, Clint Bowyer faced the challenge of proving his consistency, of showing that his previous successes were no fluke. Once again under the banner of Richard Childress Racing, Bowyer took to the tracks with a newfound determination, ready to solidify his position among the top echelons of the NASCAR Cup Series.
Bowyer quickly reminded fans and competitors alike of his racing prowess. He continued to feature prominently in the top-five finishes, leaving little doubt about his talent and tenacity. Whether it was the short tracks of Bristol or the mile-and-a-half superspeedways like Charlotte, Bowyer exhibited both versatility and an unyielding will to compete.
A key highlight of the season was his impressive performance at the Daytona 500. Despite the tremendous pressure and high stakes, Bowyer navigated his No. 33 Chevrolet through the legendary 2.5-mile tri-oval with impressive control, reinforcing his standing among NASCAR's elite.
His standout performances didn't stop there. Throughout the season, Bowyer consistently battled for lead positions, whether under the scorching sun at the Las Vegas Motor Speedway or under the lights during the adrenaline-pumping night race at the Bristol Motor Speedway.
Bowyer's 2009 season was not just about proving himself against seasoned competitors but also about illustrating his dedication and consistency. His string of strong performances kept him high in the overall standings, reinforcing his status as a force to be reckoned with in the racing world. His fierce competition and compelling drive were a clear indication: Clint Bowyer had made his mark and was here to stay.
2010: Ups and Downs
Clint Bowyer stepped into the 2010 NASCAR season with high hopes and the burden of expectations on his shoulders. This was a year that saw him scale the heights of success but also face the lows of a controversial setback that tested his resilience and dedication to the sport.
The year started promisingly for Bowyer as he carried forward the momentum from the previous season. His significant triumph came at the Showtime Southern 500, one of NASCAR's most grueling and iconic races. Bowyer's skill and mental fortitude were on full display as he wrestled his way through the pack to capture the checkered flag, proving once again that he was a force to be reckoned with in the racing world.
For most of the season, Bowyer was riding high, consistently ranking in the top ten in the standings and delivering performances that showcased his talent and competitiveness. He was running strong, determined, and seemed to be on a solid trajectory towards the pinnacle of the season – the NASCAR playoffs.
However, the rollercoaster nature of motorsports became evident when Bowyer's season took an unexpected turn. Following the first playoff race, he was hit with a controversial penalty, a significant blow that pushed him down the standings. The infraction, related to the alignment of his car's body, sparked heated debate within the NASCAR community and was a challenging period in his career. It served as a harsh reminder of the fine margins that separate success from setbacks in professional racing.
Through it all, Bowyer persevered, showing the resilience and unyielding spirit that had brought him to the forefront of the sport in the first place. The 2010 season, with its peaks and valleys, was a pivotal chapter in Bowyer's racing story, shaping the path that lay ahead.
2011: Bowyer's Final Year with Richard Childress Racing
In 2011, Clint Bowyer found himself standing at the crossroads of his professional racing career. It was his final year with Richard Childress Racing (RCR), the team that had been his home since the beginning of his NASCAR journey, and it was a year packed with intense competition, indelible moments, and significant decisions.
The season kicked off with Bowyer continuing to deliver the high-level performances that had become his hallmark. He raced with a combination of raw speed, strategic acumen, and an indomitable spirit, traits that allowed him to be a consistent challenger on the racetrack.
One of the crowning moments of Bowyer's year – and indeed, his entire tenure with RCR – was his breathtaking victory at the Talladega Superspeedway. Talladega, known for its high-speed, high-stakes racing, is a track that tests the nerve and skill of even the most experienced drivers. Bowyer rose to the occasion spectacularly, navigating the tumultuous field of competitors and crossing the finish line in first place. This victory was a testament to his talent and grit, and it added another significant milestone to his burgeoning career.
However, despite the highs of the season and his past successes with RCR, Bowyer found himself at a crossroads as the year drew to a close. After considerable reflection and deliberation, he made the decision to part ways with Richard Childress Racing. It was a choice born out of a desire for new challenges and opportunities, a decision that marked the end of an era but also the beginning of exciting new prospects in Bowyer's NASCAR story.
2012-2015: Joining Michael Waltrip Racing
When Clint Bowyer made the move to Michael Waltrip Racing in 2012, it wasn't just a simple team switch; it was the opening of a brand-new chapter in his already impressive racing career. The move was greeted with anticipation and curiosity, both by those within the NASCAR fraternity and the sport's fans. How would Bowyer fare in this new environment, and would he be able to replicate his previous successes?
The answer was an emphatic yes. From the moment he strapped into the seat of his new car, Bowyer demonstrated that his talent was not confined to a specific team or car. His inaugural season with Michael Waltrip Racing saw him clinch multiple wins, showcasing not just his ability to adapt but also his innate racing prowess that seemed to shine no matter the circumstances.
Bowyer's time at Michael Waltrip Racing was more than just about victories, though. He delivered consistently impressive performances, often battling fiercely with some of the most seasoned competitors on the circuit. He proved time and time again that he was more than capable of running with the pack's leaders, often turning challenging race situations into opportunities for top finishes.
It was not all smooth sailing, however. Bowyer's tenure at Michael Waltrip Racing did have its share of controversies. Yet, even amidst these trials, Bowyer's resolve and commitment never wavered. Through all the highs and lows, his time at Michael Waltrip Racing cemented his reputation as a top-tier driver in the fiercely competitive world of NASCAR racing.
2016: A Difficult Year
Clint Bowyer's 2016 stint with HScott Motorsports proved to be one of the most challenging periods in his racing career. When he signed on with the team, there was optimism all around. Fans eagerly anticipated new victories and successes for Bowyer, hoping that he would continue the winning streak he had established at Michael Waltrip Racing.
However, reality didn't quite align with expectations. The team grappled with a range of performance issues throughout the year, affecting their cars' speed and reliability. Consequently, Bowyer found himself in uncharted territory, facing circumstances unlike any he had encountered in his career.
His results during this season weren't up to the high standards he had set for himself. Gone were the frequent top-five finishes and the rush of victory. In their place were results that were more middling than Bowyer, or indeed anyone who followed his career was used to.
However, through all of this, one aspect remained unchanged – Bowyer's unyielding resilience. Even in the face of these adverse circumstances, he never let his determination waver. He demonstrated a gritty resolve to overcome the obstacles and hardships that came his way.
In the face of adversity, Bowyer's characteristic tenacity shone through. He continuously showed up, worked hard, and gave his all, even when the results didn't reflect his efforts. This trying period not only showcased Bowyer's dedication to his sport but also his ability to remain focused and motivated, even in the face of significant challenges. This resilience underlined the fact that Bowyer was not just a great racer but a true sportsman.
2017: First Season At Stewart-Haas
Entering the 2017 racing season, Clint Bowyer was more than ready to turn a new leaf. His journey led him to Stewart-Haas Racing, filling the seat left vacant by the legendary Tony Stewart's retirement. With his renowned skill set and vast experience, Bowyer was seen as a valuable addition to the esteemed racing team. Fans and team members alike eagerly anticipated what this new partnership would bring to the racing circuit.
Stepping into a retired legend's shoes was no easy task, but Bowyer was not one to shy away from a challenge. This transition was a fresh start for him, a chance to regain his footing in the NASCAR Cup Series after a tumultuous year. He brought his all to the table – his raw talent, his acquired skills, his unparalleled perseverance, and a strong desire to prove his worth.
Throughout the season, Bowyer was indeed able to showcase his formidable abilities on multiple occasions. His driving, both assertive and tactical, often put him ahead of many experienced competitors. His relentless pursuit of excellence was commendable, and he didn't fail to impress even the toughest of critics.
Despite his admirable performance, victories remained elusive for Bowyer during his first season with Stewart-Haas. While he had several near-misses and heart-stopping moments on the track, the sweet taste of victory was just out of reach. But true to his nature, Bowyer took this in his stride. Instead of dwelling on what could have been, he focused on learning, improving, and relentlessly chasing his goal. After all, he was in it for the long haul – not just for a single season.
2018: Return to Victory Lane
As the 2018 racing season revved into action, Clint Bowyer came in with renewed vigor and determination. He was ready to claim what he had been chasing so diligently – the elusive victory. And, as if scripted in a Hollywood movie, this year proved to be his grand reentry into the glorious Victory Lane.
Bowyer's first substantial win of the season came at the iconic Martinsville Speedway. The venue, known for its challenging track layout and the highly competitive races it hosts, was the stage for Bowyer's triumphant resurgence. The crowd roared, and car engines rumbled, but above all, Bowyer's steely focus and relentless drive echoed. He maneuvered his car with skill and precision, expertly handling the tight turns and high-pressure environment to take home the checkered flag.
Not one to rest on his laurels, Bowyer was soon back at it. His next significant win was at the Michigan International Speedway, another stalwart in the NASCAR circuit. This Speedway, with its reputation for high speeds and thrilling finishes, offered the perfect platform for Bowyer to demonstrate his regained form. When he crossed the finish line, it wasn't just a win; it was a strong statement that Clint Bowyer was back in the game and ready to take on any challenge thrown his way.
This season was more than just about victories; it was about reestablishing Bowyer's place among the NASCAR elite. His performance throughout the year was nothing short of extraordinary. He proved yet again that resilience and a never-give-up attitude, combined with raw talent and skill, make for a formidable force on the race track. The 2018 season reaffirmed Clint Bowyer's status as one of NASCAR's top talents and sent a clear message to competitors – Bowyer was here to race, and he meant business.
2019: Notable Events and Results
In 2019, Clint Bowyer stepped into the racing season with a reputation to uphold. Following his successful 2018 season, expectations were high, but Bowyer was undaunted. He tackled the season with his trademark grit, and, as always, he was ready to make some noise in the NASCAR circuit.
Bowyer's season began with a promising fourth-place finish in the Daytona 500, a challenging race known for its high-octane thrills and nerve-wracking finishes. The race set the tone for Bowyer's year, serving as a testament to his commitment to maintaining his hard-earned momentum.
Bowyer then turned heads at the Digital Ally 400 at Kansas Speedway. Known for his skills on challenging tracks, he navigated the circuit with ease, securing a top-five finish that made it clear to his competitors that he was in the season to contend for the title.
A significant highlight of Bowyer's season was his performance in the FireKeepers Casino 400 at Michigan International Speedway. He battled difficult weather conditions and a competitive field, managing to secure a second-place finish. The race showcased Bowyer's ability to adapt to challenging conditions and remain competitive, regardless of the circumstances.
Throughout the season, Bowyer also secured numerous other top-ten finishes. These consistent performances not only underscored his skill and adaptability but also demonstrated his ability to maintain a high level of performance over a grueling season.
Each race of the 2019 season was a testament to Bowyer's drive, dedication, and resilience. He faced every challenge head-on, always ready to push his limits and prove his worth on the track. His performances throughout the year further cemented his reputation as a force to be reckoned with in NASCAR, earning him respect and admiration within the sport.
2020: Final Season as a Driver
In 2020, the NASCAR community received the news that Clint Bowyer, one of its most recognizable faces, was hanging up his helmet. Bowyer announced his retirement from full-time NASCAR driving, a decision that signaled the end of a remarkable era in his career. But being Bowyer, known for his fiery spirit and relentless dedication, he wasn't about to let his final season be anything less than memorable.
The news of Bowyer's impending retirement sent a ripple across the NASCAR world, as both fans and competitors alike anticipated his performances throughout the season. Bowyer approached every race with the same tenacity he had shown throughout his career, aiming not just to compete but to leave a lasting mark on the sport he loved.
Despite it being his farewell season, Bowyer refused to let his standards slip. He continued to make his presence felt on the racetrack, bringing his wealth of experience to bear in each race. Notable among his performances was a solid second-place finish at the Auto Club 400, demonstrating that even in his final season, he was a force to be reckoned with.
Another remarkable moment of the season was his sixth-place finish at the Daytona 500. Facing stiff competition and the unpredictability that characterizes Daytona, Bowyer displayed all his veteran savvy, driving a calculated and smart race to secure a commendable finish.
Throughout the 2020 season, Bowyer continued to secure high finishes, proving his mettle time and time again. He may have been stepping away from full-time driving, but his competitive spirit remained undimmed. Bowyer's final year behind the wheel wasn't about cruising into the sunset – it was about celebrating a remarkable career by doing what he did best: racing with heart, courage, and an undying love for the sport.
Clint Bowyer Racing: Bowyer as a Team Owner
When the engine noise of his last race as a full-time NASCAR driver had barely faded, Clint Bowyer embarked on an entirely new chapter of his career. This time, however, he wouldn't be the one gripping the wheel or feeling the adrenaline rush of speeding down the track. Instead, Bowyer traded in his driver's suit for the owner's booth, forming Clint Bowyer Racing and competing in the Late Model Dirt Series.
Bowyer's decision to establish his racing team didn't come as a surprise to those who knew him best. His dedication to racing, coupled with his deep knowledge of the sport, made him a natural fit for team ownership. Bowyer's perspective, shaped by decades of firsthand experience on the track, proved invaluable as he began guiding Clint Bowyer Racing.
As a team owner, Bowyer's mission extended beyond merely winning races. He aimed to create a nurturing environment for up-and-coming talents, offering them a platform to hone their skills, learn from the best, and make their mark in motorsports. His team quickly became a training ground for rising stars, a testament to Bowyer's commitment to fostering the next generation of NASCAR talent.
Moreover, Bowyer's involvement in the Late Model Dirt Series brought a refreshing energy and a wealth of experience to the division. His deep understanding of racing strategy, car performance, and team dynamics was instrumental in steering his team toward success. The transition from driver to team owner might have been a new challenge for Bowyer, but his passion for racing and his strategic mindset made it seem like he had been preparing for this role all his life.
Career Achievements
NASCAR Cup Series Statistics
Clint Bowyer's track record in the NASCAR Cup Series has been one of consistent effort, with notable highlights and challenges along the way. This series, often viewed as the apex of stock car racing, has witnessed Bowyer's prowess as he navigated through races, demonstrating resilience, skill, and an unwavering passion for racing. The table below chronicles his performance throughout his NASCAR Cup Series career.
2.005
26
1 of 36
0
0
0
0
311
0
61,70
69
25,00
22,00
1
0
0
0
2.006
27
36 of 36
0
4
11
0
10.304
112
4,55
17
203,00
197,00
32
19
0
0
2.007
28
36 of 36
1
5
17
2
10.437
387
6,57
3
174,00
138,00
36
25
0
0
2.008
29
36 of 36
1
7
17
0
10.655
188
6,29
5
208,00
141,00
36
29
0
0
2.009
30
36 of 36
0
4
16
0
10.157
41
5,09
15
166,00
149,00
35
26
0
0
2.010
31
36 of 36
2
7
18
0
10.133
400
5,80
10
149,00
144,00
33
28
0
0
2.011
32
36 of 36
1
4
16
0
10.441
345
6,32
13
164,00
155,00
30
25
0
0
2.012
33
36 of 36
3
10
23
0
10.271
388
7,99
2
128,00
109,00
32
27
0
0
2.013
34
36 of 36
0
10
19
0
10.400
354
6,56
7
142,00
119,00
34
32
0
0
2.014
35
36 of 36
0
5
15
0
9.834
109
5,66
19
158,00
171,00
31
25
0
0
2.015
36
36 of 36
0
2
12
0
9.737
11
5,70
16
205,00
188,00
33
24
0
0
2.016
37
36 of 36
0
0
3
0
10.252
3
0,00
27
307,00
236,00
34
15
0
0
2.017
38
36 of 36
0
6
13
0
10.056
22
0,00
18
132,00
155,00
32
25
0
0
2.018
39
36 of 36
2
9
16
0
9.911
490
0,00
12
137,00
138,00
30
23
0
0
2.019
40
36 of 36
0
7
18
1
9.874
138
0,00
9
107,00
152,00
29
23
0
0
2.020
41
36 of 36
0
2
12
1
9.506
280
0,00
12
13,00
147,00
34
27
0
0
0
0
-------
0
0
0
0
0
0
0,00
0
0,00
0,00
0
0
-----
----
His performance metrics provide a comprehensive overview of his journey through the NASCAR Cup Series – spanning 16 years and covering over 540 races.
Consistent performance in the NASCAR Cup Series separates the good from the great, often indicating an intricate blend of skill, strategy, and, sometimes, a little bit of luck. As we study these statistics, let's remember the tremendous effort each team puts in to compete at such a high level of motorsport.
NASCAR Xfinity Series Statistics
The NASCAR Xfinity Series serves as a proving ground for drivers who wish to step up to the organization's top-level – the NASCAR Cup Series. With these statistics, we can trace the trajectory of emerging talent and seasoned professionals alike, mapping their journey through one of the most competitive racing environments in the world.
2.004
25
17 of 34
0
4
7
1
3.017
108
0,00
29
164,00
175,00
13
10
0
0
2.005
26
35 of 35
2
12
22
2
6.569
565
0,00
2
114,00
104,00
34
31
0
0
2.006
27
35 of 35
1
12
17
2
6.574
579
0,00
3
111,00
121,00
35
29
0
0
2.007
28
22 of 35
2
13
19
1
4.047
336
0,00
12
117,00
82,00
21
20
0
0
2.008
29
35 of 35
1
14
29
0
6.386
658
0,00
1
105,00
83,00
35
31
0
0
2.009
30
12 of 35
2
6
8
1
2.295
169
0,00
29
108,00
94,00
12
11
0
0
2.010
31
13 of 35
0
1
6
1
2.282
53
0,00
32
117,00
168,00
9
7
0
0
2.011
32
10 of 34
0
5
7
1
1.725
153
0,00
4,00
99,00
8
7
0
0
2.012
33
1 of 33
0
0
0
0
86
1
0,00
12,00
26,00
1
0
0
0
2.014
35
0 of 33
0
0
0
0
0
0
0,00
0
0
0
0
2.016
37
1 of 33
0
0
1
0
200
3
0,00
7,00
6,00
1
1
0
0
11
181
8
67
116
9
33.181
2.625
0
112
111,00
169,00
147
0
0
The figures showcased in the Xfinity Series are not just about individual races; they tell a story of career progression, mechanical prowess, and relentless pursuit of victory. Each stat holds a story of a driver pushing their limits on their quest for speed and supremacy.
NASCAR Cup Series All-Star Race Results
Clint Bowyer's performance in the NASCAR Cup Series All-Star Races has been an integral part of his racing career. From the Nextel Open in 2006 to the All-Star Race in 2020, he demonstrated impressive skills and resilience in every race. Below is a detailed account of his All-Star Race results.
2006 Nextel Open
29
19
13
7
Jack Daniels (Richard Childress)
Chevrolet
30/30
0,00
running
0
2007 Nextel Open
32
22
6
7
Jack Daniel's (Richard Childress)
Chevrolet
40/40
0,00
running
0
2008 Sprint All-Star Challenge
24
9
18
7
Jack Daniel's (Richard Childress)
Chevrolet
100/100
0,00
running
0
2009 Sprint All-Star Challenge
21
17
12
33
BB&T (Richard Childress)
Chevrolet
100/100
0,00
running
0
2010 Sprint Showdown
29
9
23
33
BB&T (Richard Childress)
Chevrolet
34/40
0,00
crash
0
2011 Sprint All-Star Challenge
21
2
16
33
BB&T (Richard Childress)
Chevrolet
100/100
0,00
running
0
2012 Sprint All-Star Challenge
23
12
14
15
5-Hour Energy (Michael Waltrip)
Toyota
90/90
0,00
running
0
2013 Sprint All-Star Race
22
6
18
15
5-hour Energy (Michael Waltrip)
Toyota
90/90
0,00
running
11
2014 Sprint Showdown
23
4
1
15
Charter (Michael Waltrip)
Toyota
40/40
0,00
running
19
2014 Sprint All-Star Race
22
9
7
15
Charter (Michael Waltrip)
Toyota
90/90
0,00
running
0
2015 Sprint Showdown
29
4
1
15
5-Hour Energy Cherry/Special Ops Warrior Fnd. (Michael Waltrip)
Toyota
40/40
0,00
running
17
2015 Sprint All-Star Race
20
4
12
15
5-Hour Energy Cherry/Special Ops Warrior Fnd. (Michael Waltrip)
Toyota
110/110
0,00
running
0
2016 Sprint Showdown
25
12
9
15
5-hour Energy (Harry Scott, Jr.)
Chevrolet
50/50
0,00
running
0
2017 Monster Energy Open
24
1
23
14
Haas Automation (Stewart Haas Racing)
Ford
20/50
0,00
stage 1 winner
20
2017 Monster Energy All-Star Race
20
17
13
14
Haas Automation (Stewart Haas Racing)
Ford
60/70
0,00
eliminated
0
2018 Monster Energy All-Star Race
21
3
19
14
Stewart-Haas Racing Fan Club (Stewart Haas Racing)
Ford
74/93
0,00
crash
0
2019 Monster Energy All-Star Race
19
1
12
14
Toco Warranty (Stewart Haas Racing)
Ford
88/88
0,00
running
2
2020 All-Star Open
21
9
2
14
Rush Truck Centers / Mobil 1 (Stewart Haas Racing)
Ford
85/85
0,00
running
0
2020 All-Star Race
20
20
15
14
Rush Truck Centers / Mobil 1 (Stewart Haas Racing)
Ford
140/140
0,00
running
0
Reflecting on the results of these races, we are reminded of the daring moves and high stakes that make the All-Star Race a fan favorite. The numbers are a testament to the skills, risks, and thrilling payoffs that define this special event in the NASCAR calendar.
Daytona 500 Qualifying Race Results
Daytona 500 is arguably the most prestigious race in NASCAR, and qualifying for this event is a monumental task in itself. These statistics exhibit the gritty performances put forth by drivers in their bid to secure a coveted starting position in the "Great American Race."
2006 Gatorade Duel 150 #1
29
4
21
7
Jack Daniel's (Richard Childress)
Chevrolet
64/64
0,00
running
0
2007 Gatorade Duel 150 #1
31
20
6
7
Jack Daniel's (Richard Childress)
Chevrolet
63/63
0,00
running
0
2008 Gatorade Duel 150 #1
27
21
18
7
Jack Daniel's (Richard Childress)
Chevrolet
60/60
0,00
running
0
2009 Gatorade Duel 150 #2
28
12
11
33
Cheerios / Hamburger Helper (Richard Childress)
Chevrolet
60/60
0,00
running
0
2010 Gatorade Duel 150 #1
27
5
4
33
Cheerios / Hamburger Helper (Richard Childress)
Chevrolet
60/60
0,00
running
0
2011 Gatorade Duel 150 #2
24
3
2
33
Cheerios / Hamburger Helper (Richard Childress)
Chevrolet
60/60
0,00
running
10
2012 Gatorade Duel 150 #2
24
24
15
15
5-hour Energy / Walgreen's (Michael Waltrip)
Toyota
59/60
0,00
running
0
2013 Budweiser Duel #2
22
9
4
15
5-hour Energy / Walgreen's (Michael Waltrip)
Toyota
60/60
0,00
running
1
2014 Budweiser Duel #2
24
10
10
15
5-hour Energy / Walgreen's (Michael Waltrip)
Toyota
60/60
0,00
running
0
2015 Budweiser Duel #1
25
20
5
15
5-hour Energy (Michael Waltrip)
Toyota
60/60
0,00
running
0
2016 Can-Am Duel 150 #1
24
18
18
15
5-hour Energy (Harry Scott, Jr.)
Chevrolet
60/60
0,00
running
0
2017 Can-Am Duel 150 #2
21
2
2
14
Mobil 1 (Stewart Haas Racing)
Ford
60/60
0,00
running
0
2018 Can-Am Duel 150 #2
20
8
4
14
Rush Truck Centers / Mobil 1 (Stewart Haas Racing)
Ford
60/60
0,00
running
0
2019 Gander RV Duel at Daytona #2
21
4
2
14
Rush Truck Centers / Mobil 1 (Stewart Haas Racing)
Ford
60/60
0,00
running
41
2020 Bluegreen Vacations Duel #1
22
7
15
14
Rush Truck Centers / Mobil 1 (Stewart Haas Racing)
Ford
60/60
0,00
running
7
These numbers are an acknowledgment of the blood, sweat, and tears invested by teams and drivers to be part of the Daytona 500 starting lineup. They underline the intense competition and tireless efforts that are characteristic of the very spirit of NASCAR racing.
Exhibition or Unclassified Race Results
Exhibition or unclassified races in NASCAR often allow for unique rules and formats, providing an exciting diversion from the regular season's structure. The results from these events can be unpredictable and thrilling, echoing the fun and high-energy atmosphere that these races are known for.
2007 Nextel Prelude to the Dream
26
11
5
7
Jack Daniel's
Chevrolet
30/30
running
0
2008 Budweiser Shootout
23
21
14
7
Jack Daniel's (Richard Childress)
Chevrolet
70/70
running
0
2008 Old Spice Prelude to the Dream
25
7
3
7
Jack Daniels
Chevrolet
30/30
running
0
2009 Gillette Young Guns Prelude to the Dream
23
1
2
33
Cheerios (Clint Bowyer)
Chevrolet
30/30
running
0
2010 Gillette Fusion ProGlide Prelude to the Dream
27
4
2
33
Cheerios / Dollar General (Clint Bowyer)
Chevrolet
30/30
running
0
2011 Budweiser Shootout
24
7
9
33
Cheerios / Hamburger Helper (Richard Childress)
Chevrolet
75/75
running
4
2011 Prelude to the Dream
28
1
1
33
Crawford Supply (Clint Bowyer)
Chevrolet
30/30
running
30
2012 Budweiser Shootout
25
17
8
15
5-hour Energy (Michael Waltrip)
Toyota
82/82
running
0
2012 Prelude to the Dream
26
3
19
15
Georgia Boot / Klotz Synthetic Lubricants (Clint Bowyer)
Toyota
22/40
mechanical
9
2013 Vermont Lottery Commission Governor's Cup
28
16
23
15
802 Toyota (Richard Green)
Toyota
132/150
flat tire
0
2015 Sprint Unlimited
25
18
20
15
New Improved Taste 5-hour Energy (Michael Waltrip)
Toyota
45/75
crash
0
2016 Sprint Unlimited
25
8
23
15
5-hour Energy (Harry Scott, Jr.)
Chevrolet
23/79
crash
0
2019 Advance Auto Parts Clash
20
15
16
14
Mobil 1 (Stewart Haas Racing)
Ford
55/59
crash
0
2020 Busch Clash
18
6
3
14
Mobil 1 (Stewart Haas Racing)
Ford
88/88
running
0
2020 Dixie Vodka 150 (iRacing)
35
11
16
14
Mobil 1 (Stewart Haas Racing)
Ford
100/100
running
0
2020 O'Reilly Auto Parts 125 (iRacing)
35
15
11
14
Rush Truck Centers / American Red Cross (Stewart Haas Racing)
Ford
130/130
running
0
2020 Food City Showdown (iRacing)
32
32
11
14
Smithfield (Stewart Haas Racing)
Ford
150/150
running
0
2020 Toyota Owners 150 (iRacing)
30
30
30
14
Peak Coolant & Antifreeze (Stewart Haas Racing)
Ford
57/154
engine
0
2020 GEICO 70 (iRacing)
39
17
33
14
Barstool Sports (Stewart Haas Racing)
Ford
74/74
running
1
2020 North Wilkesboro 160 (iRacing)
29
29
12
14
Rush Truck Centers #ThankATrucker (Stewart Haas Racing)
Ford
160/160
running
0
While these races may not contribute to championship standings, they provide invaluable experiences and entertaining moments for drivers and fans alike. These results encapsulate the essence of NASCAR's versatility, showcasing the sport's ability to balance both the fiercely competitive and the wildly entertaining aspects of racing.
Clint Bowyer's 2022 Car Accident
The year 2022 marked a distressing episode in the life of NASCAR legend Clint Bowyer, involving a tragic car accident. This event led to significant personal and legal consequences, casting a cloud over Bowyer's career and prompting a media flurry around his persona.
Details of the Accident
The incident occurred on June 5, 2022, when Clint Bowyer was traveling westbound on U.S. 54 in Lake Ozark, Missouri. In a tragic misfortune, he struck a pedestrian, Mary Jane Simmons, who was walking along the shoulder of the highway. Tragically, Simmons was pronounced dead at the scene.
According to the official police report, Bowyer was traveling at a speed of 65 mph at the time of the accident. In the aftermath, he promptly pulled over and dialed 911. The authorities reported no signs of impairment in Bowyer, and no criminal charges were subsequently laid.
Legal Consequences
Despite not facing criminal charges, Bowyer found himself at the center of a civil lawsuit initiated by Simmons's family. This case, however, was ultimately resolved outside the courtroom through a settlement agreement.
Impact on Bowyer's Career
In the immediate aftermath of the incident, Bowyer was notably absent from the NASCAR on Fox broadcast booth for several weeks. His return to broadcasting in July 2022 was marked by a palpable shift in public opinion and media coverage.
Bowyer, deeply affected by the tragedy, released a statement expressing his sorrow over Simmons's death. He pledged his full cooperation with the authorities and offered assistance to the Simmons family in any way possible.
The accident and its aftermath had a profound impact on Bowyer's career. The suspension from the broadcast booth, coupled with the intense media scrutiny, represented significant professional challenges. Nevertheless, Bowyer managed to return to his broadcasting duties and continue his career, albeit under a changed public perspective.
Clint Bowyer's Personal Life
Clint Bowyer, a renowned American race car driver, has garnered immense fame and success in the motorsports world. While his professional accomplishments are widely known, his personal life often remains veiled behind the roaring engines and checkered flags.
Wife and Children
At the center of Clint Bowyer's personal life stands his beloved wife, Lorra Bowyer. Their love story began years ago, and they tied the knot to embark on a lifelong journey together. Lorra has been Clint's pillar of strength, supporting him throughout his racing career and beyond. Together, they share the joys and challenges of parenthood, having been blessed with two beautiful children: Cash Bowyer and Presley Bowyer. As a devoted family man, Clint treasures every moment spent with his wife and children, relishing the moments of togetherness amid his busy schedule.
Clint Bowyer Parents
The influence of family extends beyond his immediate circle. Clint Bowyer's parents, Mark Bowyer and Paula Bowyer have been instrumental in shaping the man he is today. Growing up in Emporia, Kansas, Clint's upbringing was rooted in strong family values and a passion for motorsports. His parents' unwavering support and encouragement fueled his dreams and aspirations from a young age, propelling him toward his racing career.
Body Measurements and Physical Attributes
Clint Bowyer's physical attributes have played a crucial role in his racing success. Standing at 5'10" and weighing 170 lbs, he possesses a well-balanced physique that aids his performance on the racetrack. With piercing blue eyes and brown hair, Clint's charismatic presence is further accentuated by his captivating gaze. The combination of his physical fitness and mental acuity has contributed significantly to his accomplishments on the race circuit.
Net Worth and Salary
As one of the prominent figures in the racing world, Clint Bowyer has not only earned fame but also amassed substantial wealth. With an estimated net worth of $40 million, he stands as a testament to the rewards of hard work and dedication. His annual salary of $6.9 million reflects the value he brings to his racing team and sponsors. Beyond the racetrack, Clint's business acumen and investments have also contributed to his financial success.
Interests and Hobbies
While Clint Bowyer's life revolves around racing, he has diverse interests that enrich his personal life. An avid outdoorsman, he enjoys spending time in nature, relishing activities like hunting and fishing. Exploring the wilderness provides him with a sense of tranquility and a chance to unwind from the adrenaline-filled world of motorsports. Moreover, Clint's love for sports extends beyond racing; he is an ardent fan of various sports, often attending games to support his favorite teams.
Charitable Work and Philanthropy
Despite his busy schedule, Clint Bowyer remains committed to giving back to the community. Engaging in charitable work and philanthropy is an integral part of his life. He actively supports various causes, including initiatives focused on children's welfare, education, and healthcare. His involvement in charitable organizations and fundraisers showcases his compassion and dedication to making a positive impact beyond the racetrack.
Social Media Presence
Clint Bowyer's engaging personality and sense of humor shine through his active presence on social media platforms. With a significant following on Instagram and Twitter, he shares glimpses of his personal life, racing updates, and interactions with fans. His down-to-earth demeanor and approachable nature have made him a favorite among motorsports enthusiasts and social media users alike.
Final Verdict
Clint Bowyer's journey in motorsports has been marked by an unwavering passion for racing, resilience, and a deep understanding of the sport. From his humble beginnings in local races to his thrilling wins at the NASCAR Cup Series and beyond, Bowyer's career encapsulates the spirit of competition and pursuit of excellence. His time in the driver's seat has been marked by significant triumphs, unexpected challenges, and powerful comebacks. Even in the face of adversity, Bowyer's resilience and commitment to the sport never waned. His transition from driver to team owner, too, stands as a testament to his enduring influence in NASCAR. Clint Bowyer's legacy in motorsports goes beyond the accolades, leaving an indelible impact on NASCAR's history and its future.